Decorating with vases is a beautiful way to style your home. Whether filled with beautiful fresh flowers or displayed as decorative objects, vases make a lovely finishing touch for any room. 
From dainty bud vases and classic glass designs to vintage jugs and rustic confit pots, there are all sorts of vessels that can be used as vases to display flowers and many can look equally beautiful as stand alone pieces within interior design. 
There's also an array of ways they can be displayed, too, from arranged in groups on a mantelpiece or a side table, to placed alone in the center of a dining table. 
To help you get inspired we've rounded up an array of beautiful decorating ideas for arranging vases as well as some handy tips from the experts about where to place them and what vases to use for certain blooms.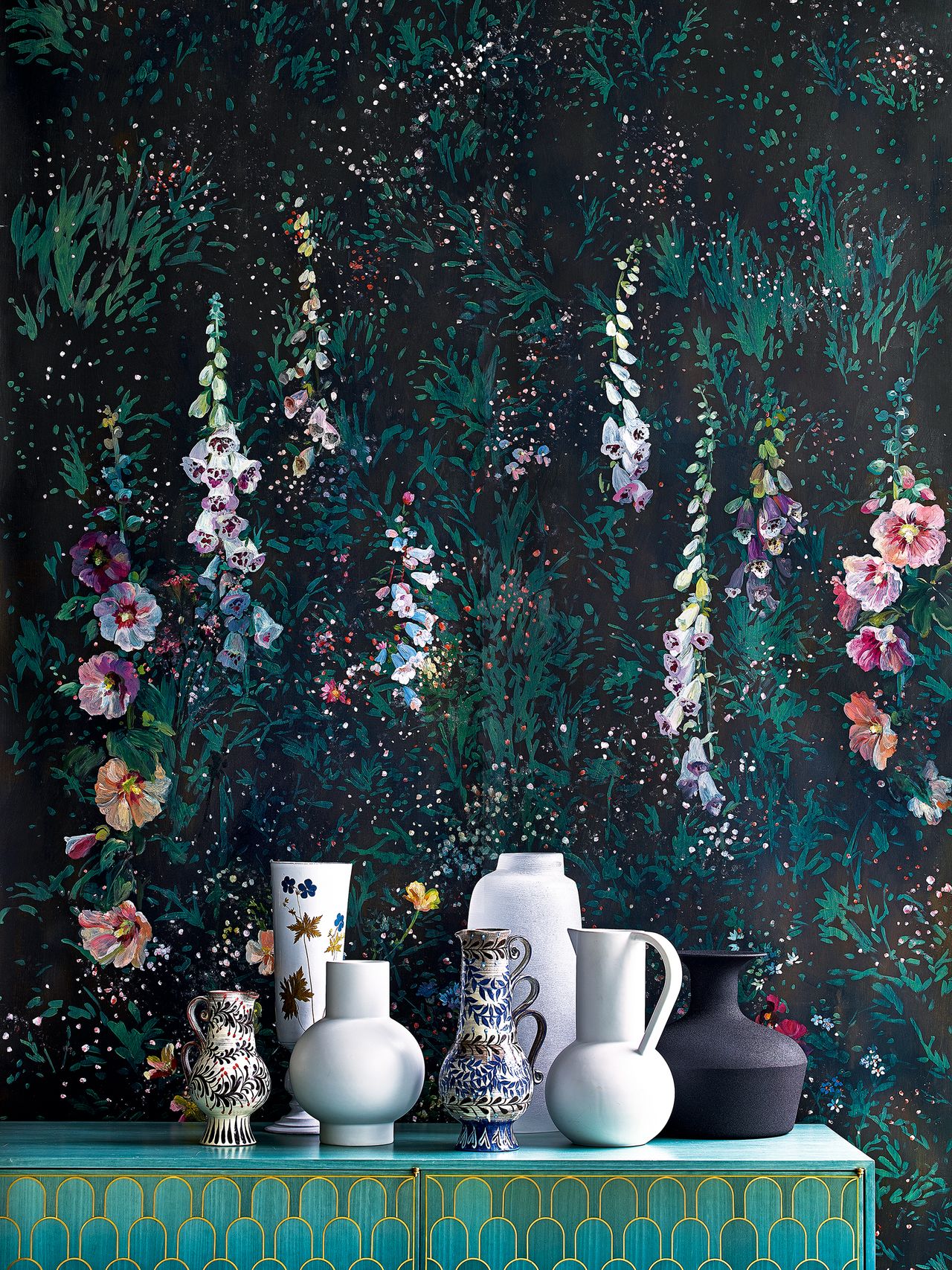 Decorating with vases – where to start
When it comes to decorating with vases, choosing the right vase is key as it can transform a floral display.
If you are given a large bouquet bursting with blooms you'll want to make sure you have the right shape of vase to show them off, alternatively a well-chosen vase can elevate the humblest of blooms into a beautiful centerpiece or arrangement, so it's worth having a selection of sizes and designs available.
However there's no need to fill vases with flowers for them to look beautiful, statement pieces with sculptural shapes, hand-painted with artisan designs, or made from beautiful materials that showcase fabulous texture, whether rustic or reflective, can look stunning displayed alone or in a curated grouping.
1. Choose the right vase for your flowers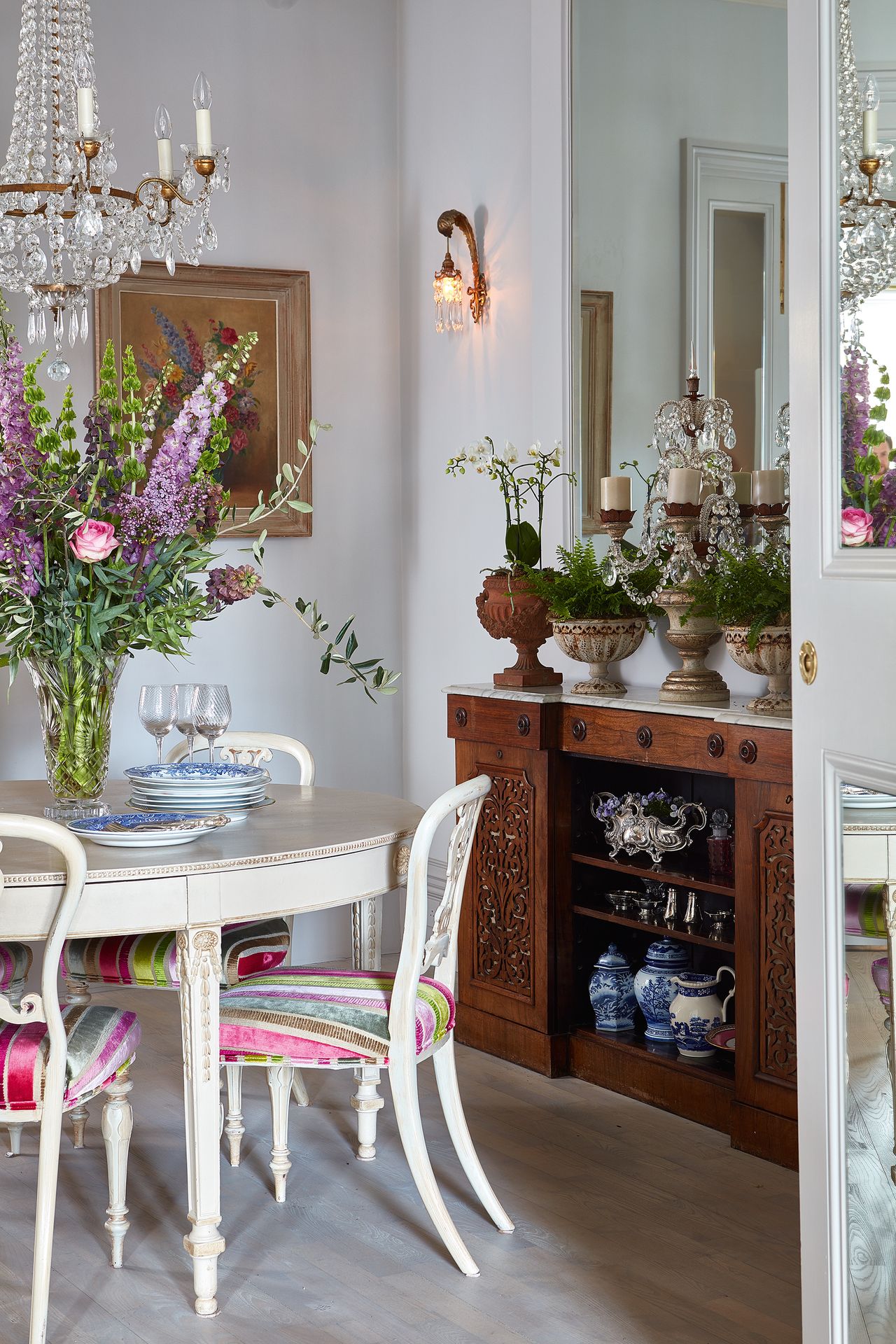 When it comes to decorating with flowers be sure to have a selection of vases at the ready. Different blooms have different habits, plus, as living things, they change over time causing the shape of the arrangement to evolve.
'I'd recommend having a choice of vases,' explains London-based florist Gail Smith for LSA International. 'A bunch of pink tulips could look amazing in one vase and a dog's dinner in another. Vases whose neck is narrower than the base of the vase are the easiest to arrange in.'
For an arrangement of soaring spire flowers such as delphiniums or larkspur, try a narrow flared glass vase as pictured and keep it clear in order to let the blooms speak for themselves.
2. Line a mantel with artisan vessels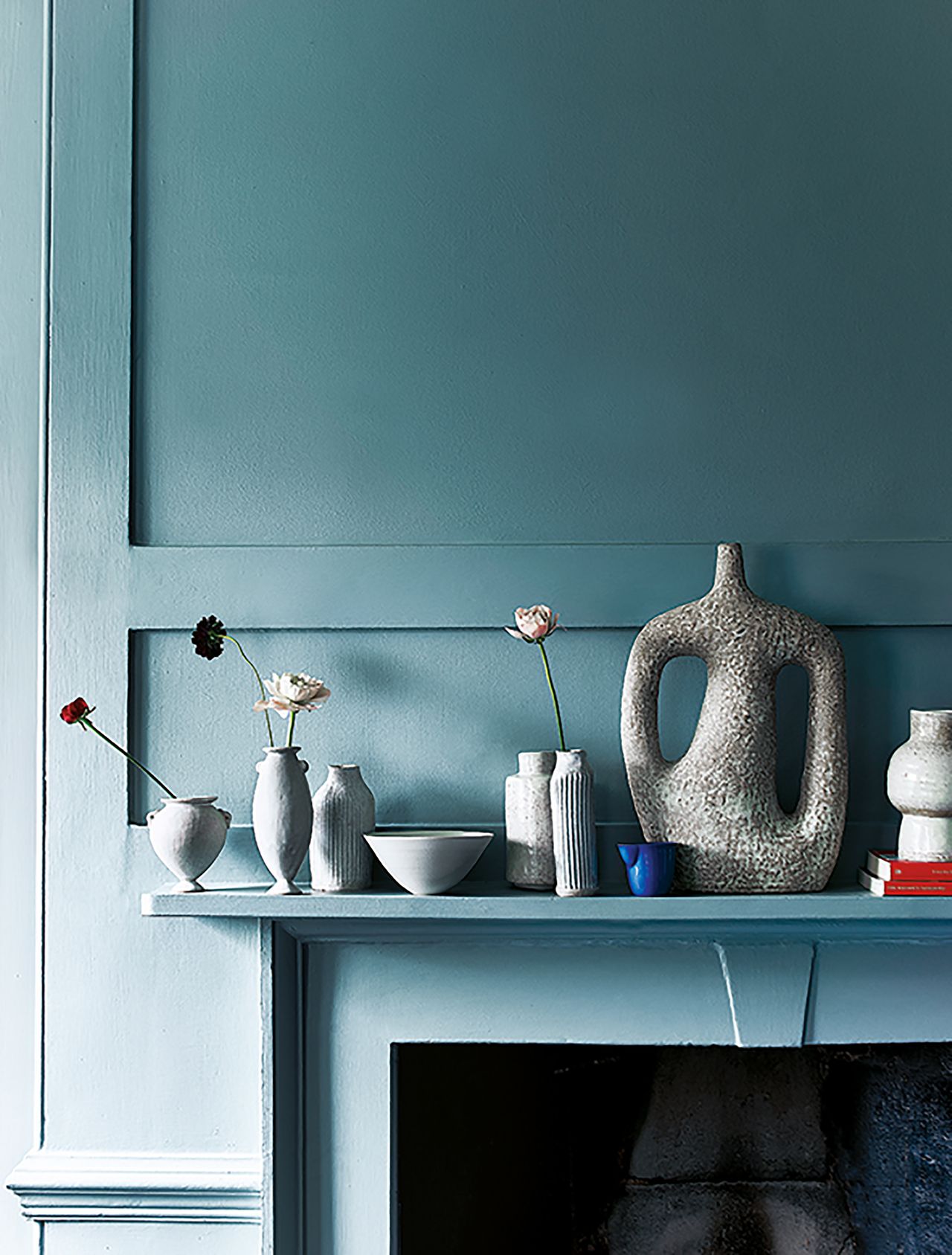 Arranging a series of vases in different shapes and heights along is a lovely mantel decor idea. For an artful display with texture and interest choose a selection of organic, handmade ceramic vases such as these designs from The New Craftsman and Be Still Ceramics. 
While they will look beautiful as a permanent display, filling the vases with a few single stems of seasonal blooms will help keep your mantel looking pretty and fresh throughout the year.
3. Create table centerpiece with vintage charm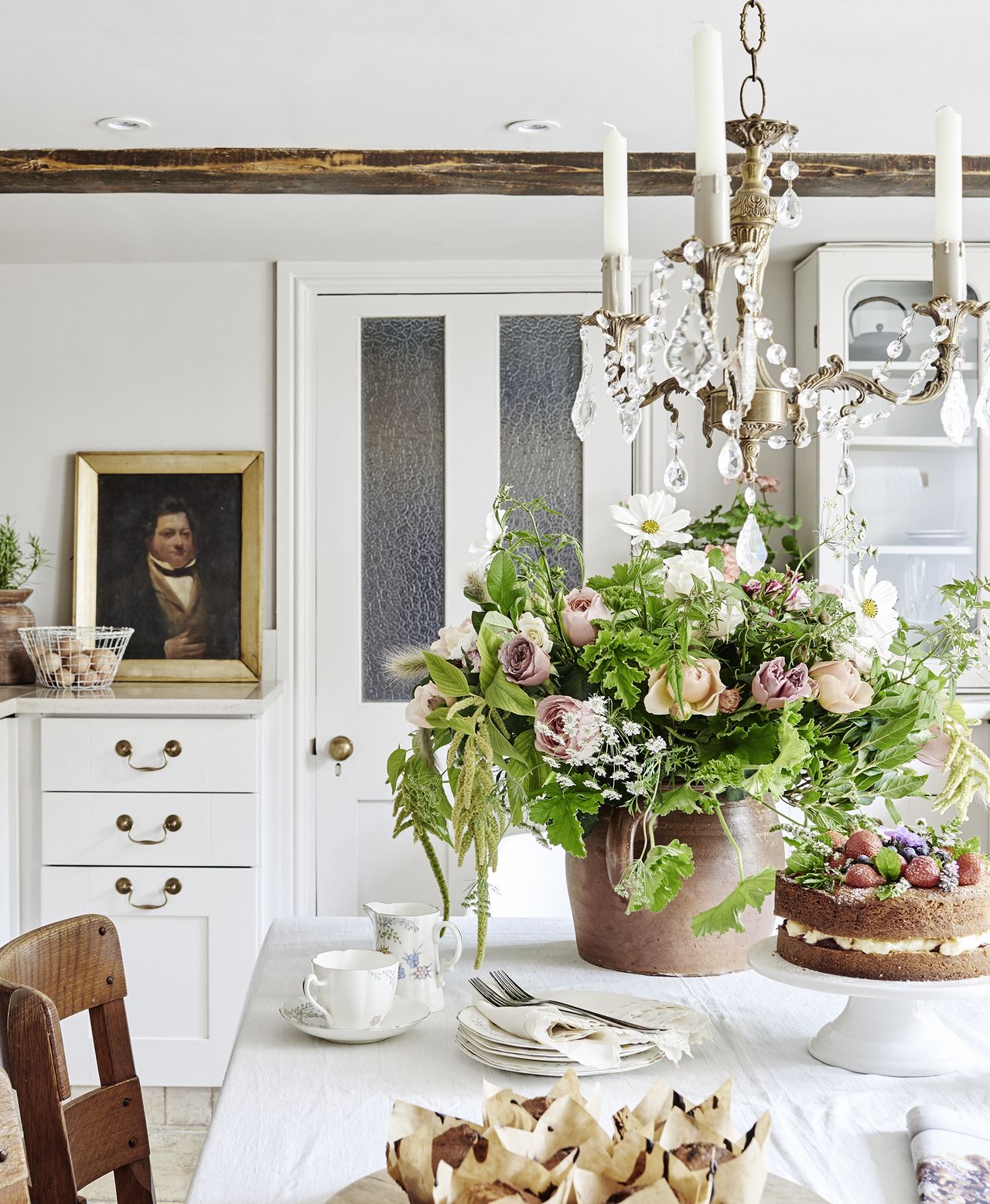 There's noting like a beautiful hand-tied bouquet of seasonal blooms to fill a room with color and fragrance, plus they make the perfect accent piece for entertaining guests, whether at a diner party or afternoon tea in the kitchen. When it comes to displaying flowers as a dining table decor idea, don't be afraid to stray from the traditional glass vase. 
Urns and confit jars are brilliant for creating a rustic farmhouse look and are perfect for 'large headed flowers, including double tulips, peonies, garden roses and hydrangea,' explains florist Philippa Craddock. 'The narrower neck helps to hold and support these larger stems, to create bold designs with ease.' 
4. Arrange artisan vases on shelves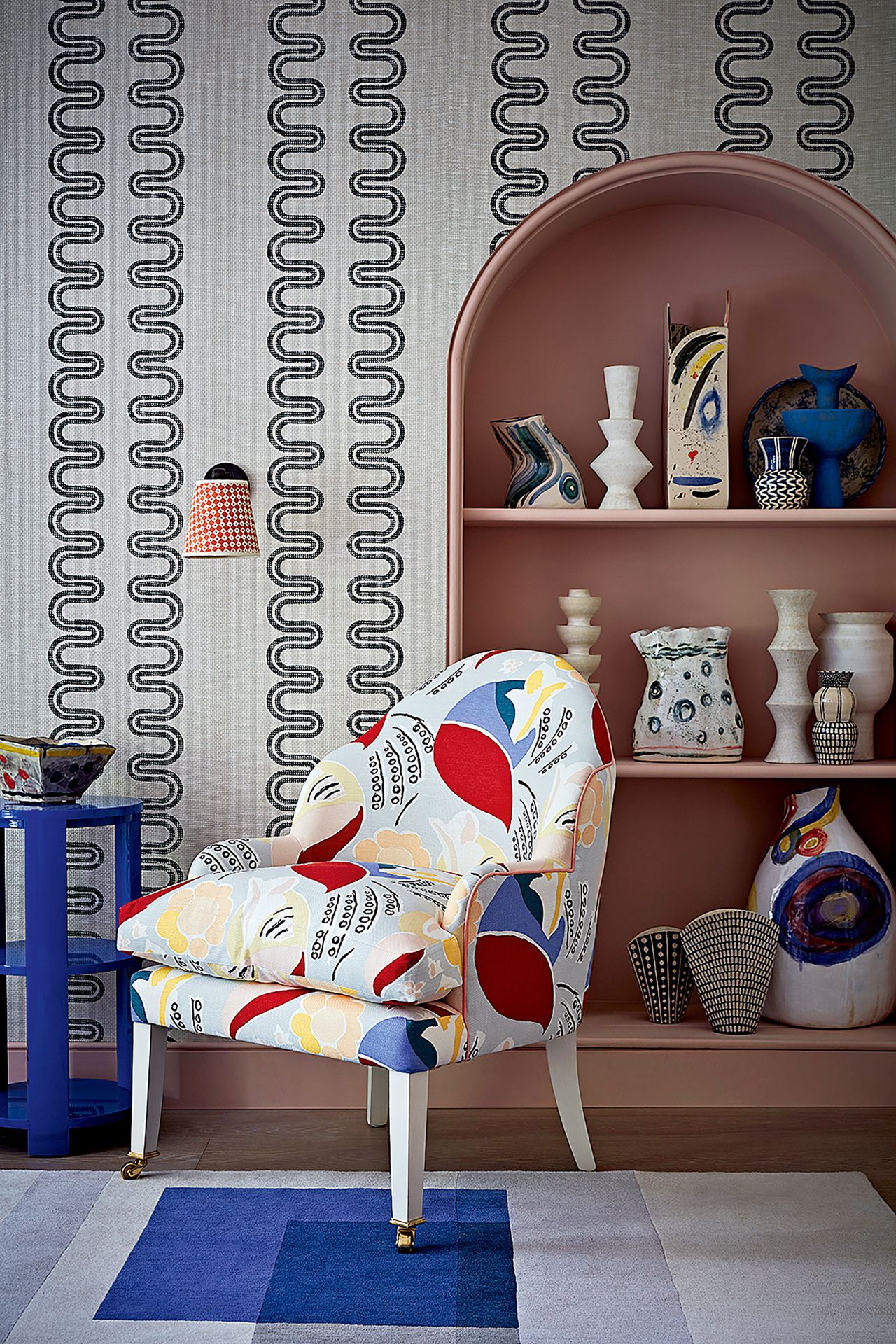 Create a striking display in a modern living room by decorating shelves with an array of ceramic artisan vases in a mix of abstract shapes, painterly finishes and bold colors.
To help the vases stand out, paint the shelves in a muted shade, this will bring enough color to off-set the vases without competing with them.
5. Brighten up a hallway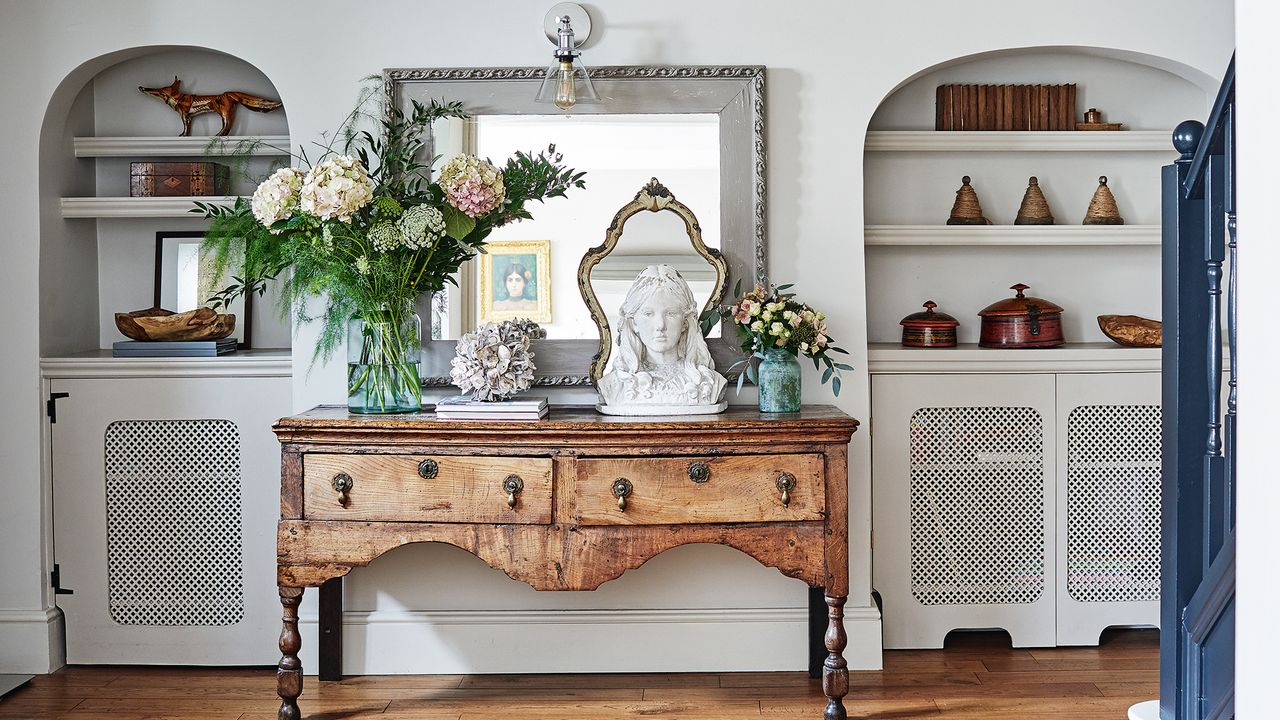 As the room into which we welcome guests, the hallway makes a perfect space to display vases fill of fresh flowers as they are guaranteed to bring a joyful and uplifting feel. If you're looking to embrace entry table decor then a console table or sideboard is a must. 
In addition to be a practical, 'a console table will also give you a surface to add some decor so people coming into your home get a sense of your personal style and what to expect,' says Emma Deterding, founder and creative director, Kelling Designs. 'Dress the console with decorative vases and objets, display your best family photos and bring in a touch of nature with plants.'
Decorating with mirrors above a console will make a hallway feel instantly bigger, but is also a lovely way to amplify a vase of flowers making them appear more abundant.
6. Display a series of bud vases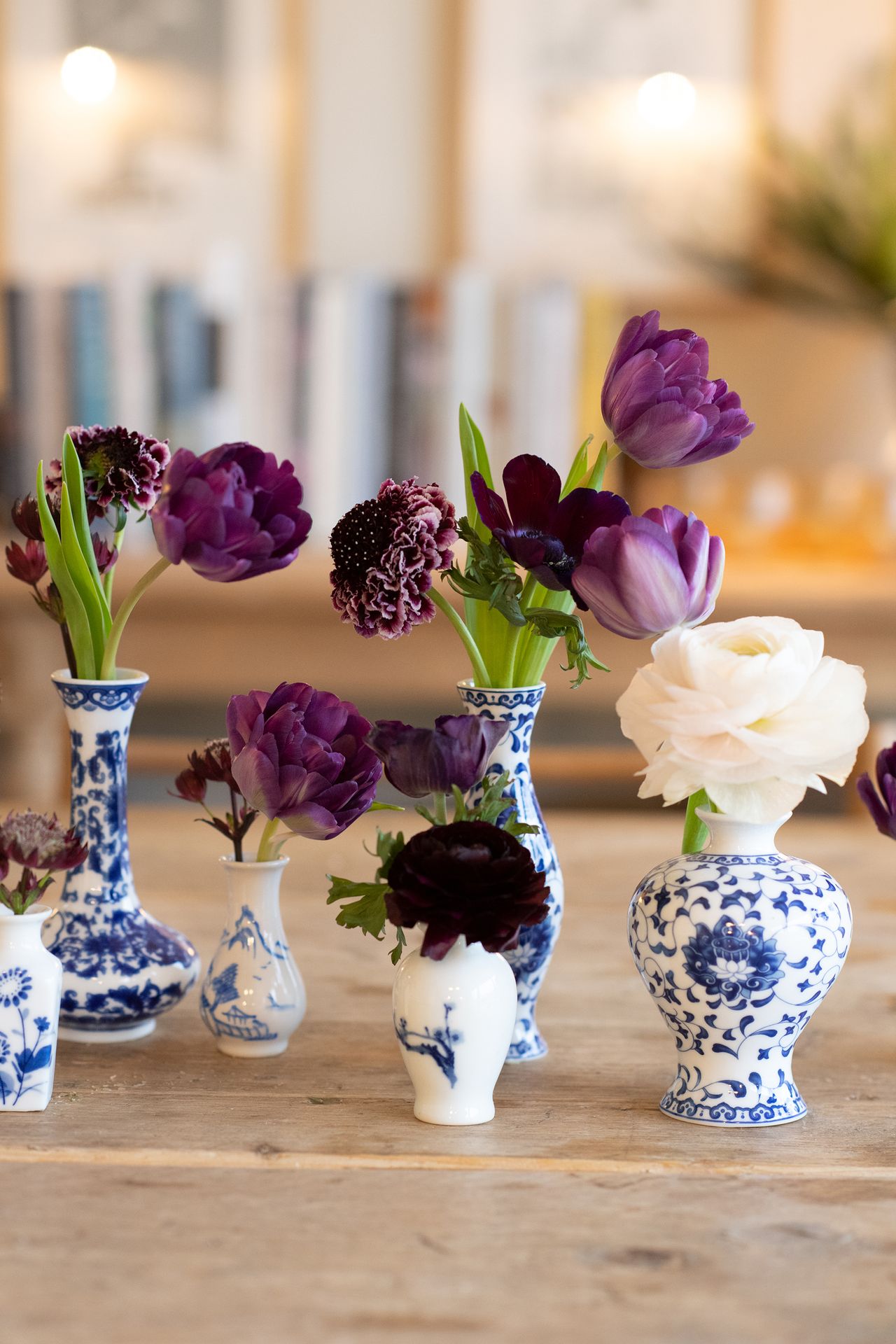 When it comes to floral displays bigger doesn't necessarily mean better – single stems in little vases can be just as effective as a large centerpiece and really allows each bloom to shine. 'I like to use bud vases for quick, elegant table designs, using simplistic single stems to mixed mini bunches of small stems,' says Philippa Craddock.
These chinoiserie vases are great for adding a pop of pattern and would fit beautifully fully with a blue and white scheme.
7. Cluster bud vases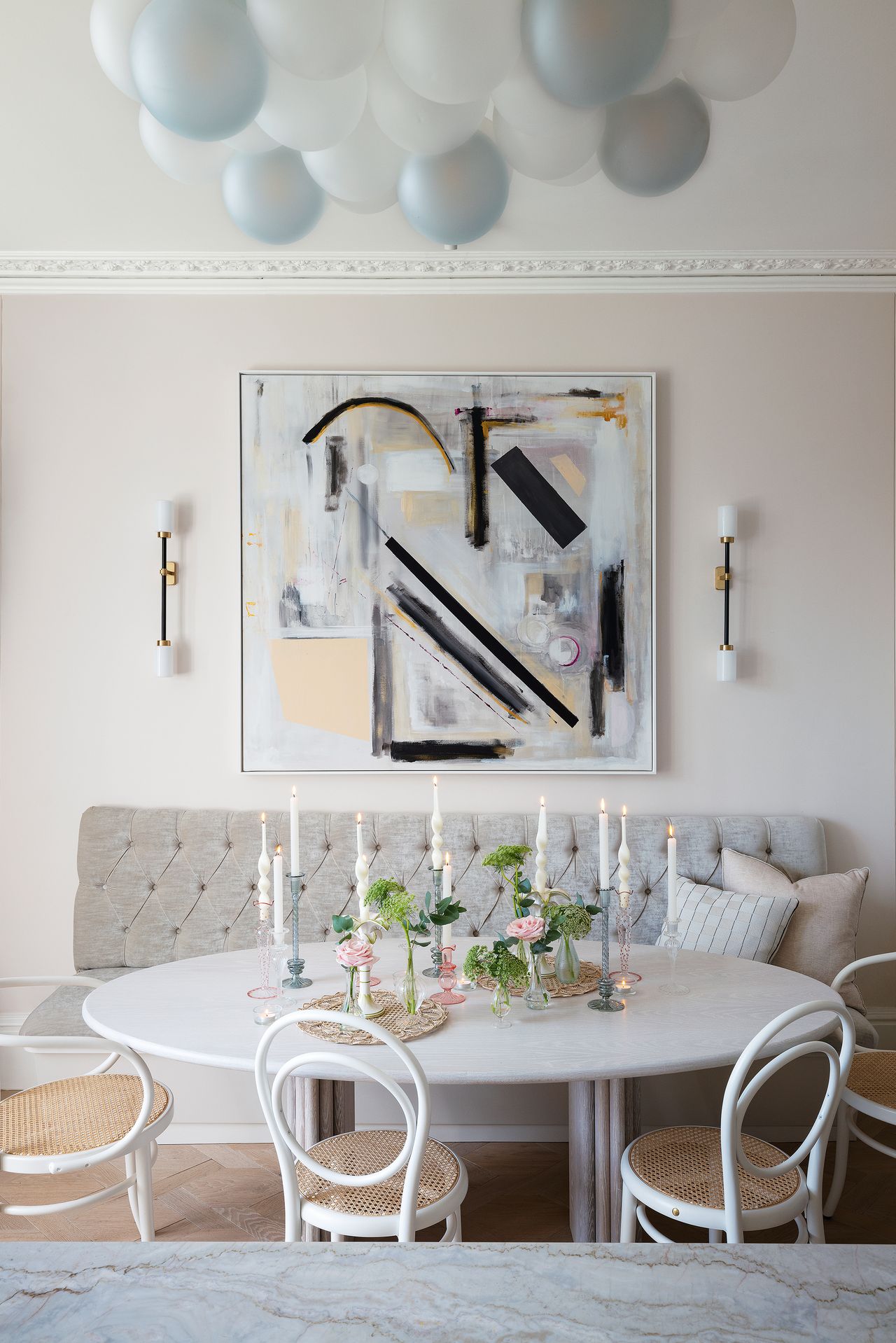 For a delicate yet impactful display for a dining room try popping stems in glass bud vases and arranging them in the middle of the table alongside a series fo glass candlesticks. 
Lightweight, the vases can easily be moved when it's time for serving food and there's no need to worry about large vases falling over. Be sure to choose blooms that aren't too heavy so the vases don't tip over.
8. Use a tall vase for sculptural branches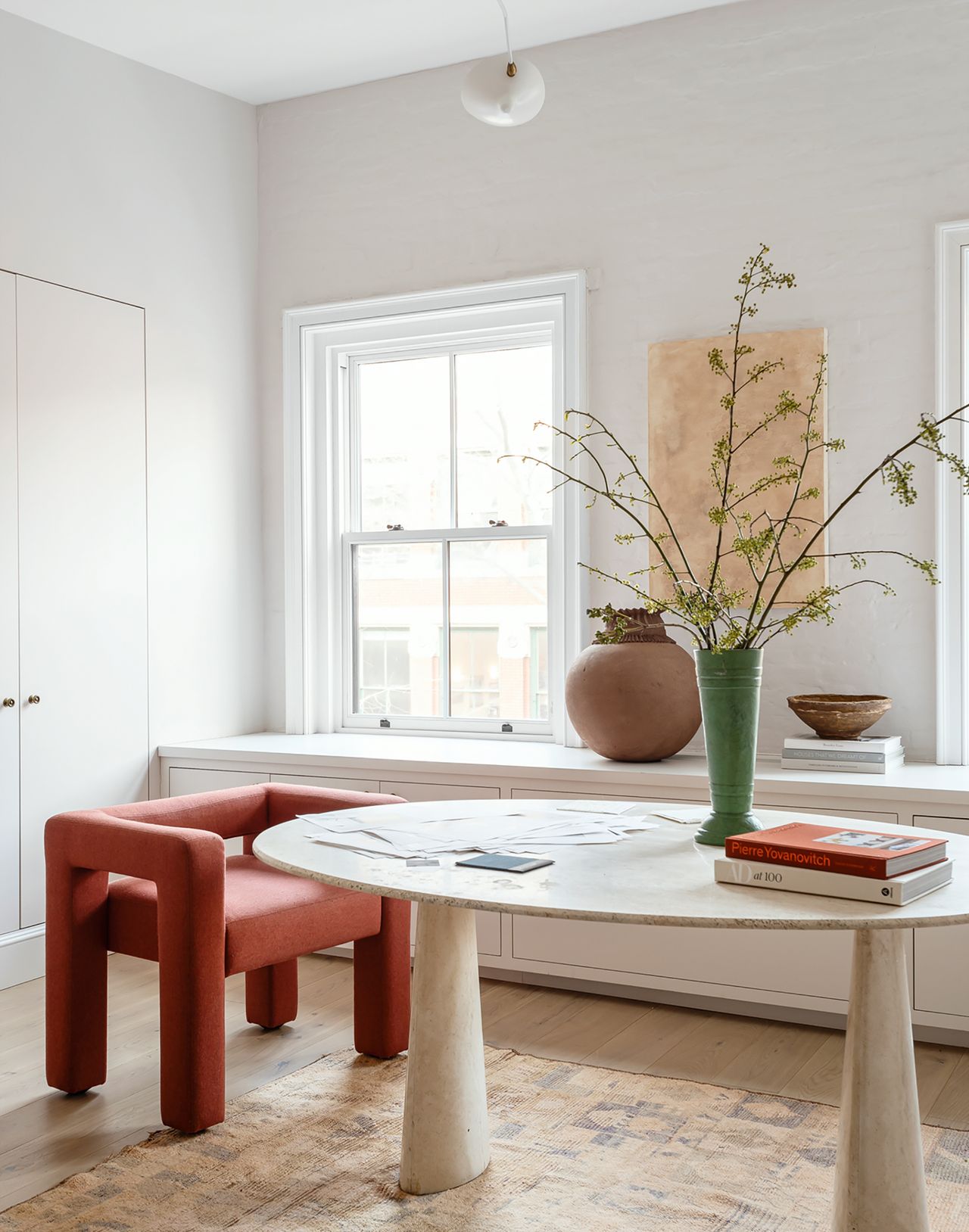 Decorating with plants needn't cost a fortune, in fact just a few foraged, leafy branches can make a beautiful sculptural centerpiece in a neutral room as this space proves. 
For best results, display branches in tall vases with a narrow neck to keep them upright. Alternatively, 'apothecary glass vases are superb for wild, whimsical, just picked bunches of longer stems and branches,' suggests florist Philippa Craddock.
9. Display colored glass vases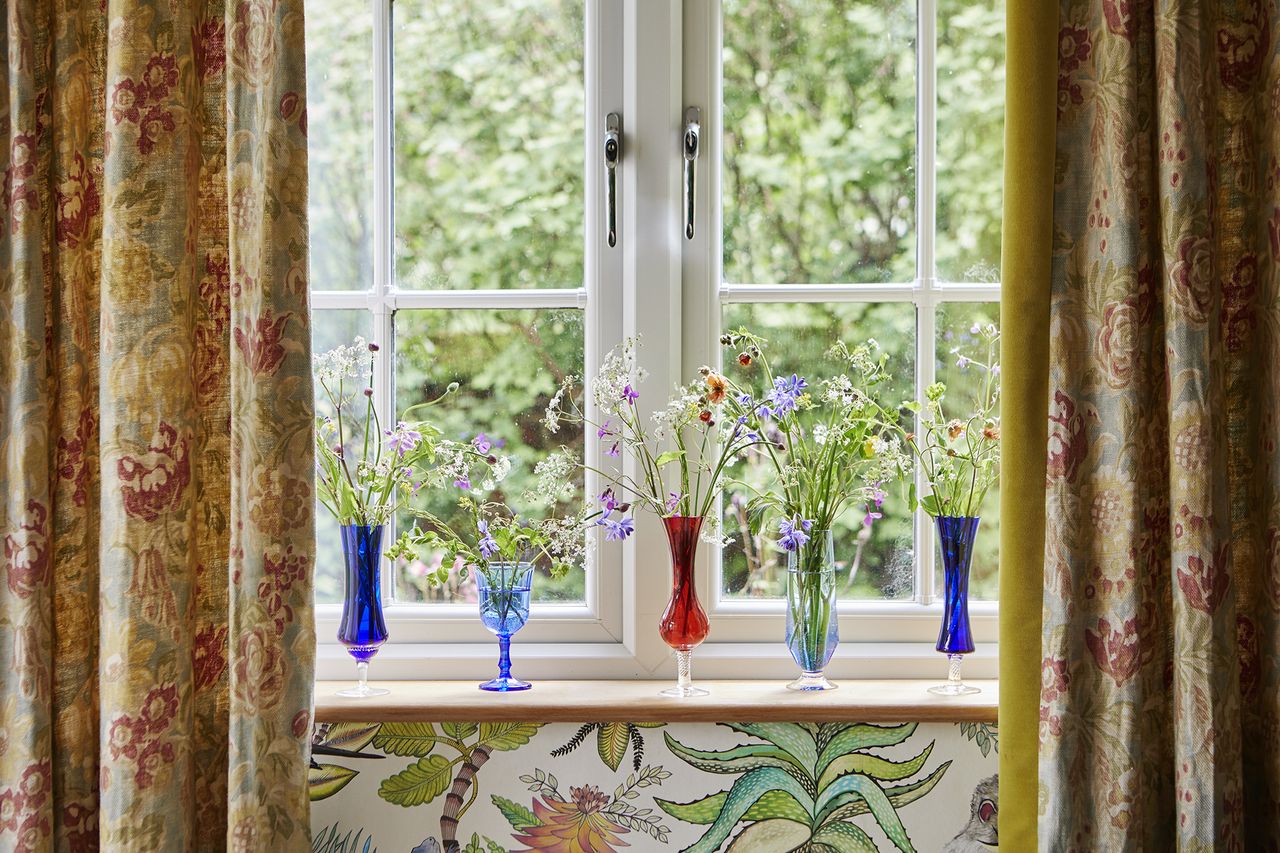 Tinted glass vases have grown in popularity in recent years as more of us are embracing color in our homes. They can be a lovely way to accent colorful blooms or to elevate humble wild flowers, plus they are handy for obscuring messy stems.
For a dazzling display, place a selection along a windowsill where they will shine like jewels in the sunlight. 
10. Pair vases of different heights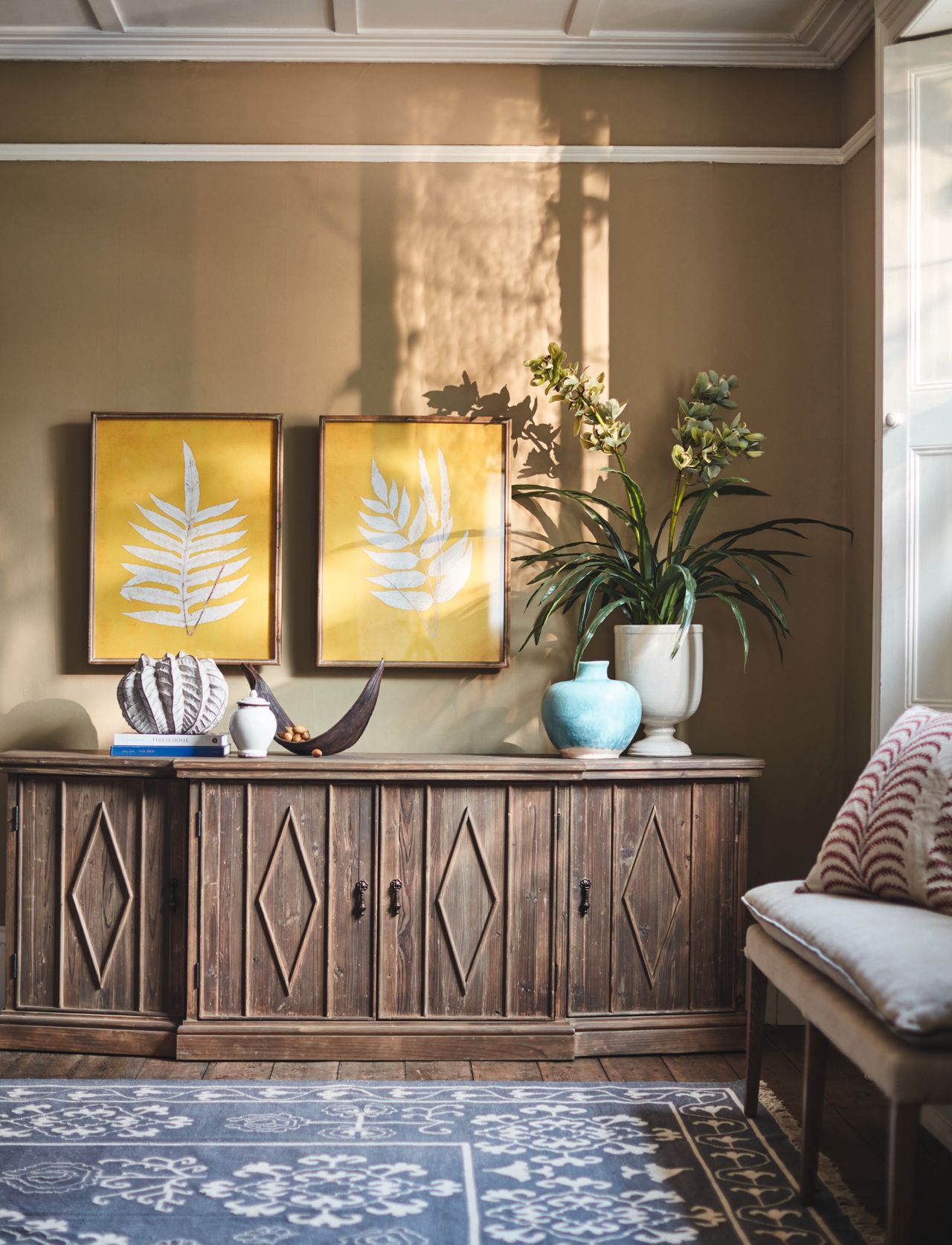 A living room sideboard or console table makes the perfect place to style a decorative display featuring vases. 'If you're wondering how to style a console table try seeking inspiration from nature and think about the heights of the pieces,' says Sue Jones, founder of Oka. 'A vibrant floral display can really bring a room to life, especially when arranged in a statement vase or pot.'
'For spring and summer, look for ceramics featuring nature-inspired textures and calming shades of blue or cream, and be sure to pair designs of different heights together – contrasting tall and short pieces is pleasing to the eye,' she adds.
11. Use vintage vessels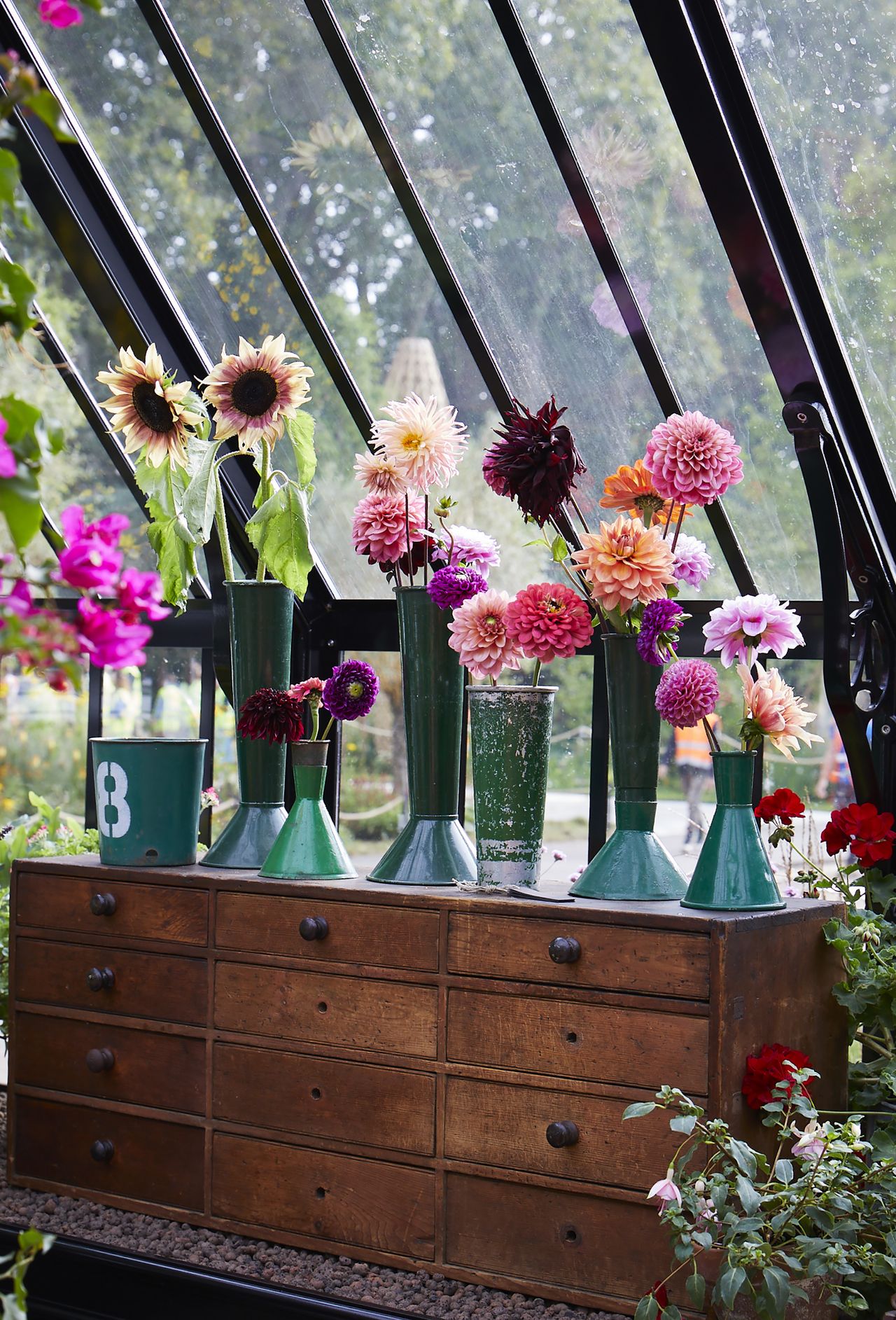 Bold, blowsy blooms like dahlias can be overpowering in a single vase – to make the most of them try splitting the bunch and arranging them across a series of vases. 
If you love decorating with vintage, old metal floristry vases of enamel jugs in green are particularly effective at setting off hot-colored blooms and add lovely character with their time-worn patina.
12. Fill jugs with dried flowers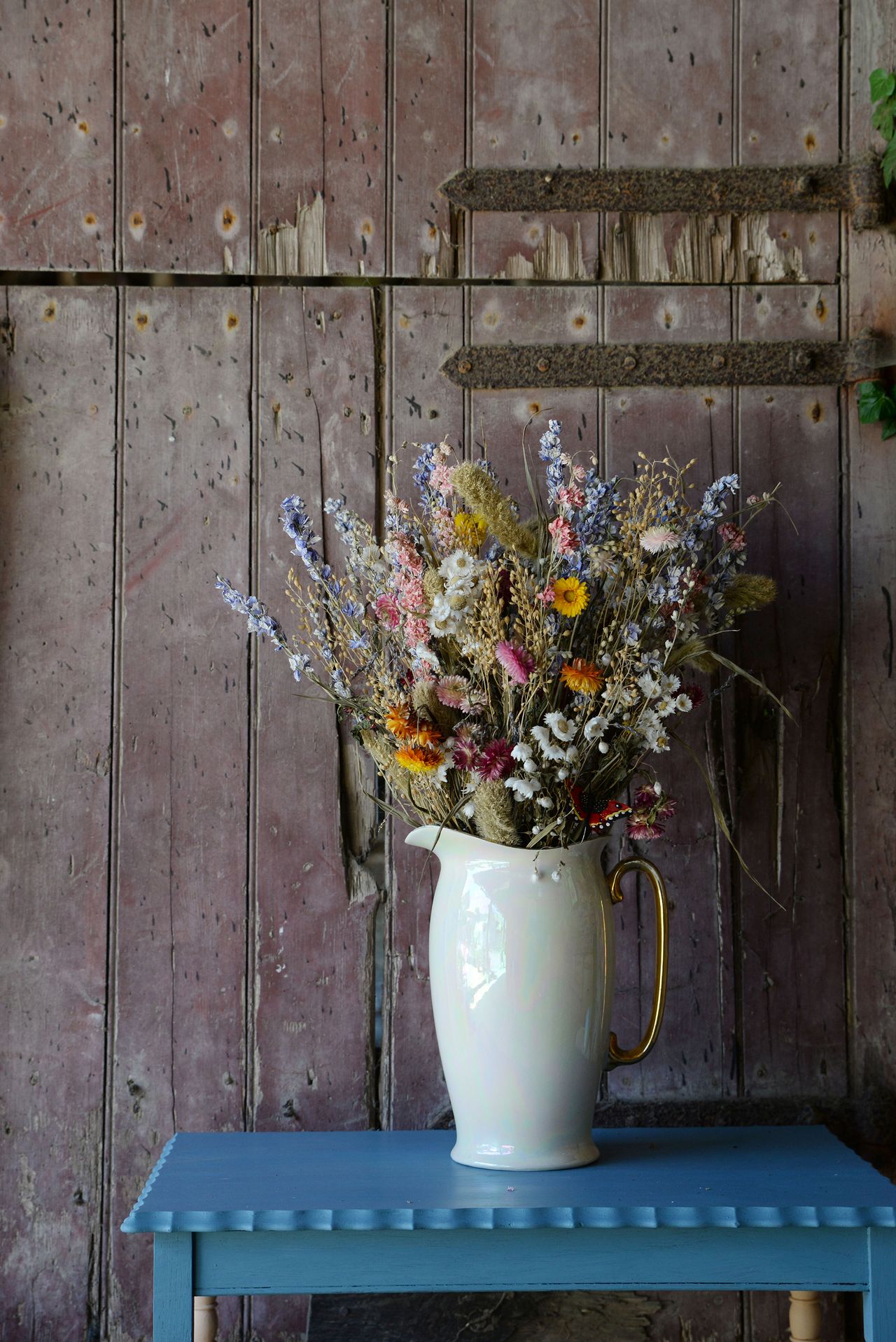 While fresh flowers are hard to beat, they only have a limited lifespan, on the other hand, by decorating with dried flowers you can create a beautiful everlasting display.
'By their very nature dried flowers have shrunk in the drying process so you usually need more stems to fill a vase. For this reason, the vase can look messy with lots of stems, so I prefer to use an opaque or colored glass vase to hide the stems,' explains florist Gail Smith for LSA International. 'Dried flowers are often straight and stiff so I include plenty of dried flowers that have a wobble in the stem to add movement.'
You can buy ready-dried flowers but what can be even more special is to dry your own pickings from the garden. Once you have learnt how to dry flowers you can create endless lasting arrangements such as this by Dot and Dandelion displayed in a vintage jug.
13. Arrange sculptural vases on a table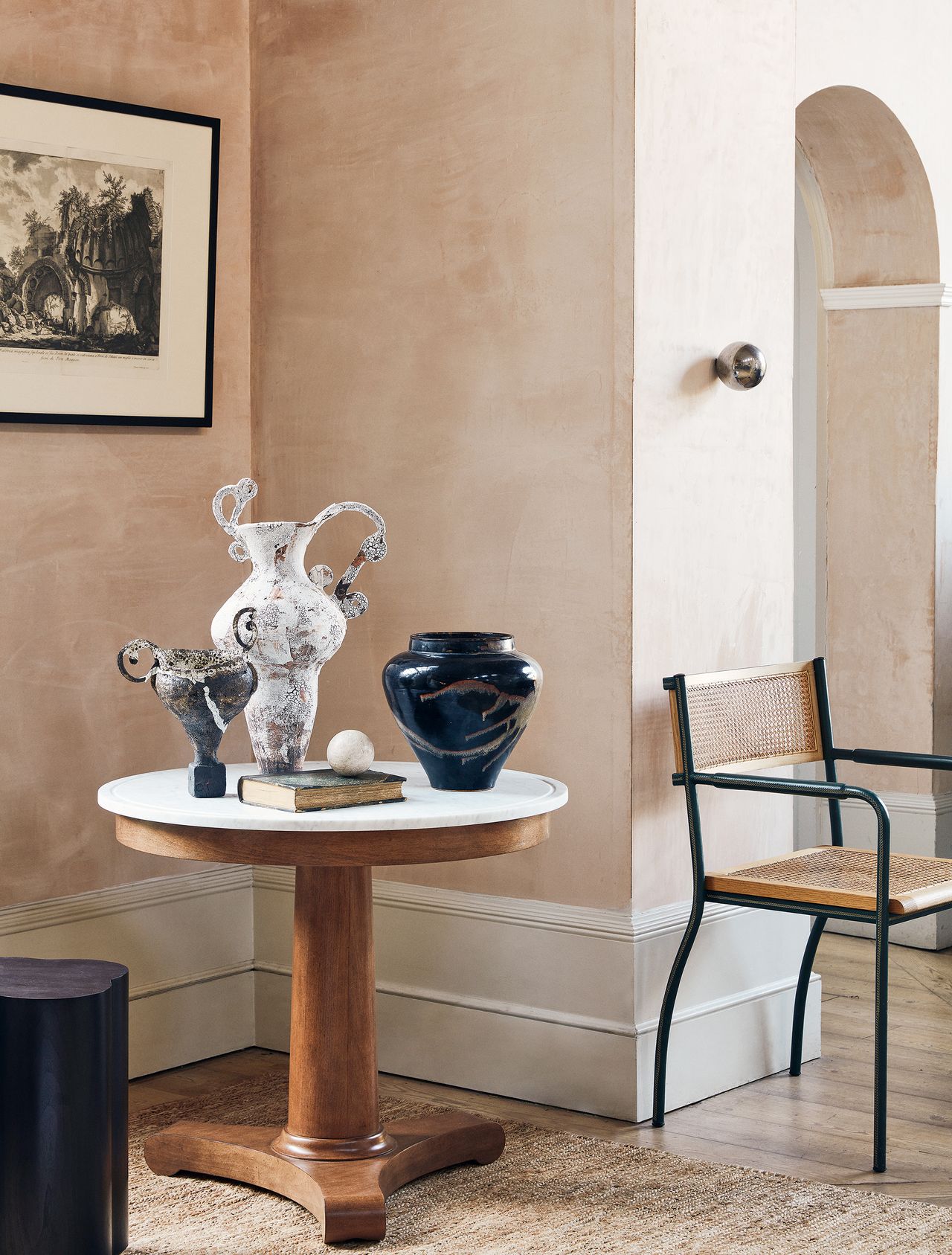 Arranging shapely vessels on a simple table can be a fabulous way to bring interest to an empty living room corner. 
When arranging decorative objects work in odd numbers and select pieces of different heights to ensure rhythm and balance. If you're planning to keep to a monochrome palette, choose pieces with sculptural forms and materials with plenty of surface texture. 
When it comes to what table to choose, try a simple pedestal table so as not to distract from the artful display.
Can you decorate with empty vases?
Yes, you can decorate with empty vases. Gone are the days when vases are kept in the cupboard and brought only occasionally. Many vases look just as good empty as they do filled, and can make for beautiful displays in their own right, so there's no need to store them away once flowers go over.
There are many vessels used to display flowers that also make lovely decorative objects: urns, confit pots, and vintage jugs all look beautiful arranged in small groups or on their own. in an alcove or windowsill.
Empty vases can make beautiful arrangements, especially if they are in lovely colors and have beautiful sculptural shapes, patterns and textures. Empty vases work well displayed in odd numbers and at different heights. 
Arrange them on a sideboard in a living or dining room, or add interest to a corridor or hallway by displaying them on a console table. They also look brilliant displayed on shelves or in a glazed cabinet.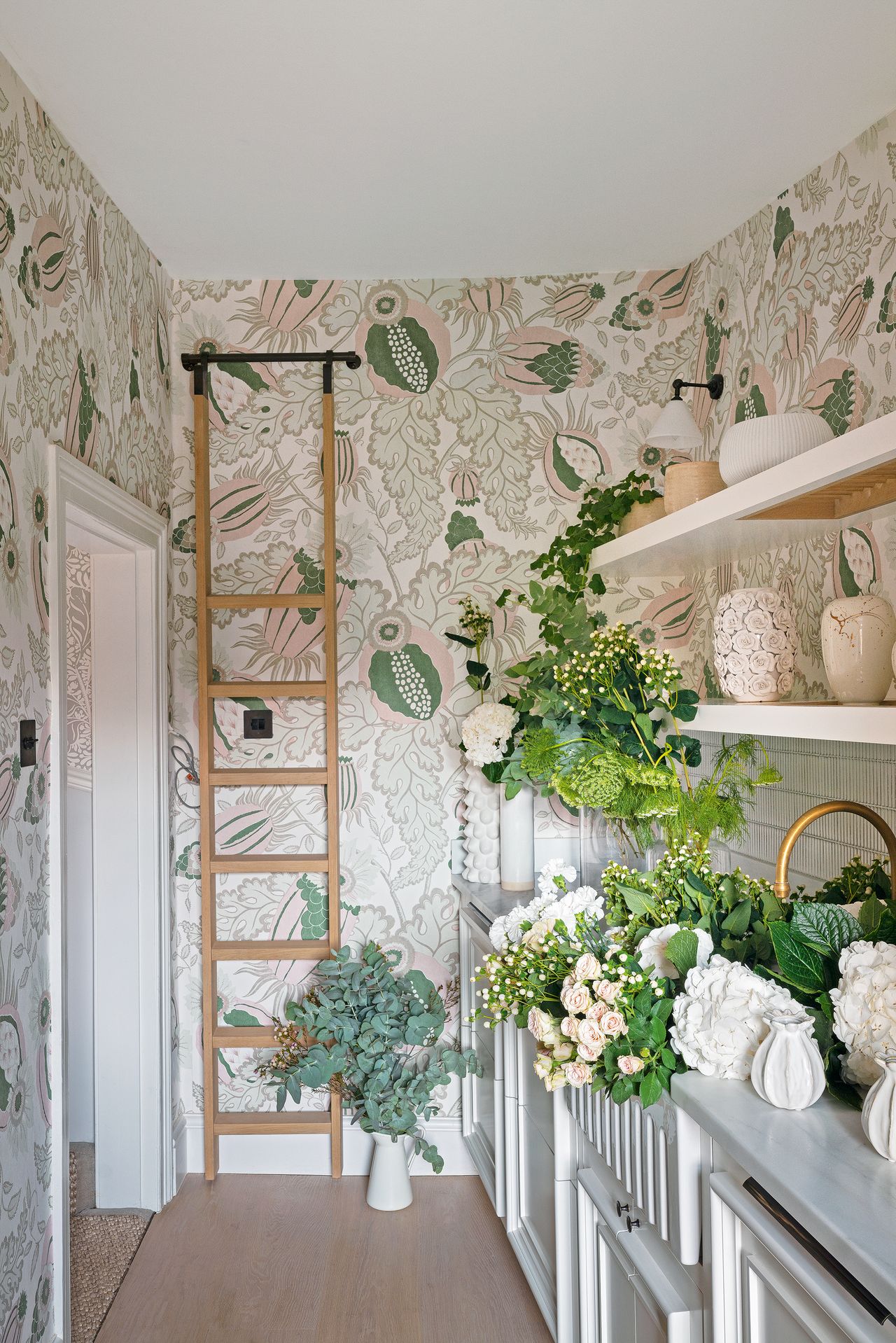 How do you display a vase in your house?
There are many ways to display vases in your home. When filled with flowers they make the perfect table centerpiece or can be placed on a console in a hallway as part of your entry table decor ideas. 
Vases bursting with new season blooms are classic spring mantel decor idea for brightening up your home, alternatively, try filling them with dried flowers or rustic branches for a fall mantel display.
When flower vases aren't in use don't hide them away in a cabinet in the utility, consider displaying them on open shelves or in a glazed cabinet – not only will this make for a lovely display, it will allow them to be easily seen and accessed. 
Statement vases with colorful hand-painted designs or striking shapes look lovely displayed alone with no flowers on a mantel, shelf or side table, alternatively, try displaying a collection of vases in different shapes and materials for a quirky display.